I miss music. Wait, no. I think I need to be more specific on this one. I miss live music. I miss shows. I miss going to a place from my younger years known as Mulcahey's. I miss the bands that would play and the people I'd see. I even miss the promises I'd make to myself, to leave early so that I could wake up the next day and get to work on time. I'd make it to work on time, or just barely. But I never left early.
Then again, my body was young at the time. I needed less time to recover. I could somewhat heal and somehow push through. Whereas now, well, age has stepped in to pull its trick. I laugh as I explain this because my bedtime at this age is perhaps the hour when I would take a nap before going out for the night. And yes, I do miss the nightlife. 
I miss the places and the venues. I miss a bar that was on Broome Street. I miss a place that was called Lemon on Park Avenue. I knew some of the bouncers and they knew me.
I miss a place called Live Psychic, which was over on 84th street on the Eastside. I liked this place because for some reason, the bouncer thought I was the brother of a famous actor. I never told the bouncer this was true. Then again, I never said this was untrue either. Instead, I smiled and accepted the preferred treatment.
As a matter of fact, I recall a night where the line outside was long. I walked up to the front with a few friends trailing behind me. Meanwhile, there were a couple of girls who I knew from the neighborhood. They were not my friends by any means. They were with a much different crowd and I walked passed and offered the traditional, friendly "Hello" as a sign of maturity and class.
The bouncer greeted me at the door. The girls noticed this. The bouncer shook my hand and offered me a "Bro" hug and whispered in my ear, "Are they with you?"
I answered, "No." and went inside.
(Karmic debt is a funny thing.)
I do miss the summer nights at the places in Island Park. I miss the outdoor venues and the late-hour songs, which always played around the same time. Yet, none of this ever got old. It was fine.
We were fine. We were young and crazy. We were untouched by real life and unaware of what was coming our way.
I think it was Calvin from Calvin and Hobbes who said, "Becoming an adult is probably the dumbest thing you could ever do."
I'd have to agree with Calvin on this one. I have to agree that becoming an adult and missing out on shows or losing the rush we felt in our youth is perhaps one of the saddest forfeits of our lives.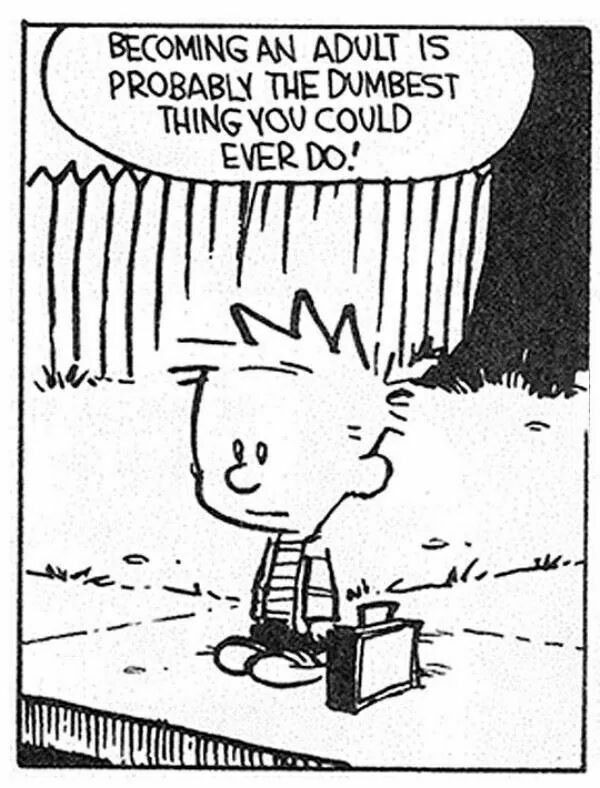 I never made it out to a place for spring break. I never did Cancun or anything like that. Then again, I was never much of a college man. So, perhaps this is somewhat of a culture thing.
I had a few weekends in the Hamptons. I had my share of events. I had my share of late night spots and afterhours joints where I can say that yes, I've seen some things. And these are the things that have inspired me and shaped my life. I had my share of escapades. I remember Downtown on the cobblestone streets, south of Houston, SoHo and Mercer Street.
I had my share of times in the East Village at a place called Papa Fritas, which translates to the words "French fries." However, due to a friend's poor pronunciation and attempt of the Spanish language, I went unaware to enjoy a tasty snack at someplace which he called Papa Frida's. My friend would not tell me what they served. This was supposed to be a surprise.
As we approached, I asked about the mystery. He wouldn't tell me what they served. He said I had to wait and see. However, upon approach, I asked my friend, "You brought me down here for French fries?"
"You've been here before?"
"No," I said. "But it's not called Papa Frida's."
"Oh yeah, then how do you say it?"
"Papa Free-tas. It means "French fries" in Spanish."
My friend's response: "Oh."
In fairness, they did have some great fries. Different flavors and different toppings. 
I miss a place called Stingy LuLu's over on St Marks. I miss the times I spent downtown and the barbershop at Astor Place.
I miss the concert halls and the bar room phenomena. I miss the stories and the scene. I remember there was a somewhat large transvestite who used to ride around the village on an old-time bicycle. She would sing and ride around on her bike. No harm. No foul. It was just New York City.
Most of all, I miss the feeling. I miss the energy. I miss the brilliance of new introductions and the inspiration I felt while walking across from a park near 14th Street.
I wondered about the poets I followed. I thought about Jim Carroll and a thought he wrote about being in the same vicinity and wondering about the poet, Frank O'Hara.
By the way, I have to admit, O'Hara's poem, "Having a coke with you,' has inspired me on more than one occasion. As for my wonder of Jim and Jim Carroll as a poet, I always wondered if I were to meet him, what would I say? Perhaps a thank you would be sufficient. Perhaps he would understand. At least, I think he would.
I sometimes look to the sky and I wonder. I wonder about myself. I wonder about this journey that I've chosen to take. I wonder about the speakers and poets who've inspired me. I wonder if they know.
I wonder if they have any idea or at least an inkling of how impactful they've been to me.
But then again, I am unknown to them. And that's the point of all art; to reach people, including the unknown.
I want to do that as well. I want to pass the torch which has been passed to me. I have been inspired and it is this inspiration which has kept me alive up until this point. It is this fire inside me. And I can't let this go.
This is my undying youthfulness. This is my desire. While my age is older and my bedtime is much earlier; still, in me is a young wolf who is eager to howl, live and bark at the moon. 
I remember one of my last trips to see Mom down in Florida. I walked the beach in Ft. Lauderdale and saw miles of bodies on the sands. All were young. All were college kids. All were having fun and laughing. They were smiling and soaking up the sun.
God bless them. Bless their young, hopeful lives. Bless their future. Bless them for they know not what they do. Bless them for their ignorance and bless them for their resilience. But mostly, bless them for their future.
Sometimes, I am lucky enough to have conversations with the younger generation. I've had the honor of speaking with interns who are near the end of their college years. We talk and we laugh. They allow me a look at their life and I allow them the foresight of my experience. I value them; but moreover, I honor and appreciate the friendships and the occasional messages I get from some of them. 
My best advice to them is never forget to live your life.
Someone wrote their college thesis about me. Can you believe that? I know this because the person's father told me so. That young person who I spent a summer with is now a V.P. at a large insurance firm. And I think to myself, "They wrote about me!"
We have this unbelievable ability to encourage and inspire.
I love that.
I love the way this reminds me how we are all imperfect. But thankfully. at least we are perfectly imperfect together.
I think of the saying about hard times and how hard times make for hard people. Hard people make for easy times. Easy times make for soft people and soft people make for hard times. Life is cyclical. What goes around comes around. Be aware. Be ready. Be unafraid and be a warrior because the world happens on all sides. Be the best that you can because me, I've done my best to deal with my karmic debt. I don't want to owe anymore. I want to be free. 
That's all I want.
Time to go folks.
There's a car waiting for me outside.
They've come to take me to meet my dream.
PS: Dear Jim,
I know we've never met but your diaries kept me alive during the tough times of my life. I only hope that mine pays the kindness forward.
Sleep well. Oh, and I hope O'Hara was there to greet you as a friend.